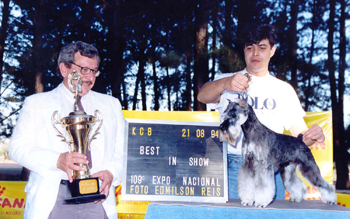 Brs. Ch. Ruedesheim's Blaky Altenstadt X Brs. Ch. Kelly's Bibiane of Sailer's
Multi BIS.Int.BGrd.Brs.PanAm.Ch.
SAILER'S SWEET CHAPLIN
Prop/Owner: Sailer kennel - Brasil -


Breeder/Handler: David Reis de Carvalho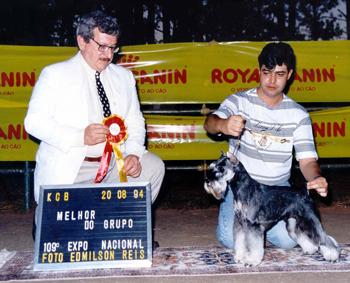 Chaplin é pai de 13 campeões, vencendo seu 1o. BIS adulto aos 13 meses de idade
Chaplin is sire of 13 champions, winning his 1st adulto BIS at 13 months old.
CHAPLIN CONGRATULATES
CH. SAILER'S SWEET GASPAR

Multi All-Breed Best in Show.
---
BANHO. TOSA. HOSPEDAGEM. STRIPPING. ROLLING.

Santa Barbara-MG-Brasil
Phones: (55-31) 99156 1399 David (vivo) / (55-31) 99607 4782 Fernando (vivo)
E-MAIL sailerdf@terra.com.br
Nenhuma imagem ou material pode ser reproduzido sem permissão. Todos os direitos reservados.
No imagens or materials may be reproduced without permission. All rights reserved.